Click link in title to detailed story.
What else can you say? A Baptist Minister killed while performing a baptism: it was his time to go.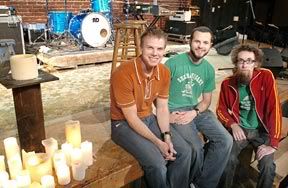 KYLE SHOWN HERE ON LEFT, WITH PASTOR BEN DUDLEY (CENTER)AND MUSIC PASTOR DAVID CROWDER
I know this story isn't folklore, I got a tip from JingJing who is currently with her husband at Baylor. She knew Kyle. Let's all put a prayer in for his 3 very young children!
Here's an inteview with Kyle about his work: