What's Wrong With Bratz?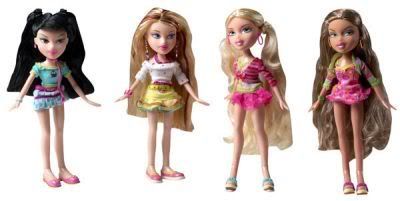 What's wrong with cute Bratz dolls for little girls to play with? They wear tons of makeup, and really sexy clothing like midriff showing tops and skirts with thongs. Don't we want our k-5 girls learning how to be hoes? Now for the pre-k we even have baby Bratz with tons of makeup and sexy clothes over their diapers.
There is not a thing wrong with Bratz if you are a pedophile.
That's about the nicest thing I can say about these perverted toys for girls. I used to not really care about kids toys. Now that I have a daughter I am HORRIFIED at the Bratz. I remember when they first came out. We were in ToysRUs and I called my wife over to the display. We were beside ourselves.
If you are thinking "What a prude!" then I ask: do you let your daughter act and look this way? No? Then why encourage it with the toy? If you do let your daughter act this way then you may need to step back and look at her from the prospective of teenage boys and the monsters I mentioned previously.