I have a brief, six word reply:
ROLL ON FLOOR LAUGH OUT LOUD.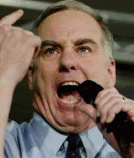 SCREAMIN HOWARD DEAN
I'm laughing so hard I'm crying here! Democrat party, the party of "oral interaction is not sex" is the harbinger of morality? The party of gay marriage? The party of remove God from everything? The party that is pro-any religion as long as it isn't Christian?
Phew! Love Dean. Y'all be sure to keep him in front and off his meds through the next presidential election cycle for me, ok?
Morality and Democrats? Crack me up!