alternate title: THE VINCE YOUNG ERA BEGINS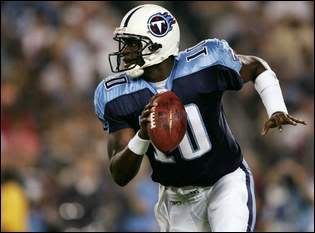 VINCE YOUNG
NFL HISTORY was made Sunday. Down 21 to nothing in the 4th quarter, the Titans came back to stun everyone by beating the Giants in final score of 24 to 21. A great play by play and detailed account is linked in the title. I found out about it when I came back home and heard Al Michales talking about it on Sunday Night Football and found myself dropping what was in my hand in shock and cheering in the kitchen.
The only part I'm mad about is I had to leave and walked away from the game right as the late hit was called against Giants cornerback Walker for the elbow to Young's helmet out of bounds. That apparently was the play that changed everything.
The second alternatie title for my rant: Pacman's redemption.
What a game!