I VOTED!
I voted today!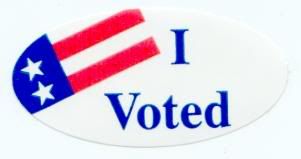 I have a decent clue what is going on. I stay informed. I exercised my rights with a respect for the process
by knowing the issues and the decisions before me
!
With that said, do not dare go out and disrespect the process by being an imbecile who doesn't know the name of the Governor or what position the person you are voting against will even hold!
In this case for the most part the decision was "who will run against the other party to get a shot at that position" vote. If you didn't already know that, maybe it's good you didn't vote!
If you have bought a bumper sticker that says "I miss Clinton" then you should be blocked from coming near a voting booth!