This article speaks for itself: Iran is considering a special badge for Jews and Christians to wear.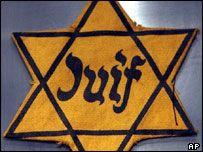 ORIGINAL JEWISH BADGE FROM HOLOCAUST MUSEUM
"Human rights groups are raising alarms over a new law passed by the Iranian parliament that would require the country's Jews and Christians to wear coloured badges to identify them and other religious minorities as non-Muslims."
The question begs: should we use a historical barometer to measure Ahmadinejad and find him a threat? When we combine his speeches against Israel and the country's desires toward nuclear arms against their previous pledge as anti-proliferation do we see a context that must be addressed?
The interesting thought is that the Iranians are both trying hard to deny the holocaust yet they do so much that mimics it.
5.24: FOLKLORE CHECKUP: THIS STORY HAS BEEN DENIED BY THE ORIGINATOR.