What happens when I'm home sick playing on DSL and find where quality computing meets twenty somethings with way too much time and energy?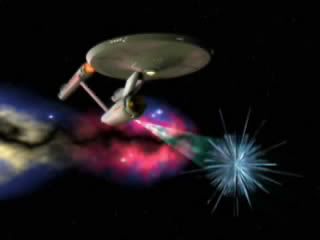 NCC-1701 ENTERPRISE
The completion of the original five year journey of course! I put the link in the title for your pleasure!
Much to my parent's dismay I caught reruns of the original show as a kid every night at 7 pm on the local station that later became our Nashville FOX affiliate. I try to avoid the questionable doll issue portrayed in media but I do have a fascination with the ships. Its part of my childhood that I was denied so I revel in it some. My now 4 year old gets that daddy has a kid streak and loves it.
However any fascination I had with Star Trek don't hold a candle to this: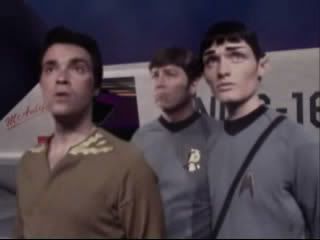 KIRK, BONES AND SPOCK
This group writes, creates and makes available entire episodes of Star Trek because they want to. Their faithful commitment shows in every detail. From the cheerleader skirts on the girls to the campy sounds of the bridge, it's all there. It's not just a good copy, you can practically taste the dedication and love to the original. Special effects? The animation of the ship is faster and more... (dare I struggle to say "realistic"?) from the original and VERY IMPRESSIVE for guys that are doing this for free!
There are two episodes currently available. "Come What May" is their pilot. Episode 4.01 "In Harm's Way" and a new production 4.02 "To Serve All My Days" with (gasp: THE) Walter Koenig is coming out sometime this year. I highly recommend downloading and sharing them with your friends. It's one of the few indulgences out there that is actually worth two hours of your time. I can't begin to fathom how many hours of their time it took to build the sets, let alone put this amazing quality production to bed!
Apparently these geeks are not alone. As I surf links from here I find that there are literally a dozen different groups out there making their own Star Trek stuff.
And for the bobbleheads who make comments: yes it's legal because they aren't making a dime off of it. And yes I was in fact disappointed when the "prequel" Enterprise was cancelled. No, I don't care if Sulu prefers tutti-fruitty ice cream.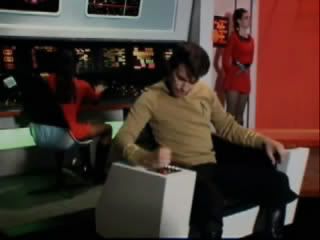 INFAMOUS "KIRK OUT" SLAM OF FIST
My greatest fear is that this bunch of trekkies gets real jobs (sorry, real Hollywood type jobs because of their effort here) and can't spend any time making more of these great episodes.