My Felix on Oscar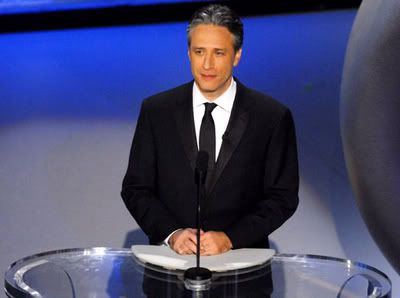 JON STEWART HOSTING OSCARS from YAHOO PHOTOS
We don't watch many movies at the theatre for reasons I've commented on before (lack of polite behavior by others). We don't even have cable or satellite service. It was by accident that I turned on ABC last night (which has terrible reception) and caught these lines from host Jon Stewart that absolutely cracked me up:
"Tonight is the one day a year when you can see all your favorite stars without donating money to a Democrat."
...followed by...

"You (Hollywood) get to do something you aren't used to doing: casting a vote for a winner."
I actually snorted I laughed so hard.
Then later I read that Clooney said something about "Being proud of being out of touch" or something to that effect. I'm not surprised and I personally think we all ultimately benefit if he stays that way.