Ah, to be 21 and think I know everything again! If you click the link in the title you'll find an article about a fellow blogger. The problem is that 21 year old has posted graphic instructions on how to do an abortion. Apparently the just-of-
legal
-drinking-age Florida resident Molly's action is a protest to South Dakota's recent law against abortion.
To give some glint of history and credibility to Molly the author writes:
"For years, it was. Before 1973, abortion was largely illegal, but hardly rare.
"Every town in America had someone who did these things," said Rickie Solinger of New Paltz, N.Y., author of several books on abortion history"
I am not here to rant against Molly. I too thought abortion was ok when I was 21. I will however rant against the idea that issue has not changed changed since 1973. Adoption is a far cry different now than it used to be. Once upon a time a woman went to a lawyer in secret to get rid of her "problem" and never see it again. Now we have semi-open adoptions where pictures, letters and gifts are exchanged regularly.
Some adoptions even have
-GASP-
regular visitations with the birth mother!?!
Women don't wear pearls and heels when they do housework. Mail is electronic and fast. Cars have airbags and kids ride in car seats instead of laying in the back window or chewing on the dashboard. Moms depend on seatbelts instead of the super arm restraint system. Most dinners involve microwaves. Executives type 50 words a minute because they have to use a computer. You can even eat red M&M's without fearing cancer.
And many more people now understand that adopting is not something to be ashamed of.
My rant is that many levels of society have progressed and are more aware of the benefits of adoption and the potential harm from abortion. Clergy are more likely to know an adoption counselor than an abortion doctor.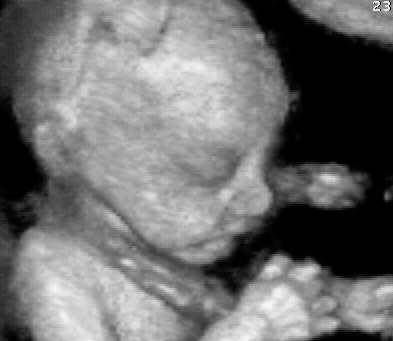 Thanks to technology, many more of us now can prove that abortion is in fact murder.
Clearly the adoption-abortion issue has changed since 1973. It will likely take another two generations to push the acceptance back to the darkest corners of our society where acceptance of horrors such as racism hide. Abortion and racism are both the presumed supremacy of one's rights over another human being. The light of truth will eventually quash both.
My other abortion topic rants:
3.07.2006 ABORTION LEGISLATING LIFE
11.28.2005 ADD INTO CHOICE THINKING
11.16.2005 LAMENTING ABORTION AND RACISIM *** the must-read
11.05.2005 NOV: ADOPTION AWARENESS MONTH: talk I gave to my church
10.19.2005 NOT HUMAN, JUST A COMMODITY?
10.07.2005 ABORTION ESPIONAGE AND STAMFORD'S SHAME
10.04.2005 UN: REPRODUCTIVE HEALTH STATEMENT
9.15.2005 MICHIGAN PARTIAL BIRTH AND UNCHECKED DICTATORS
8.18.2005 DEAD BABIES: JUST MORE TRASH
8.16.2005 IS ABORTION A TRAGEDY?
7.05.2005 SAVE THE HAMPSTER, KILL THE BABY
5.9.2005 CONFESSION TO THE FLAME