These are the Days of Our Iranian Nuke soap opera.
Since we get snippets each day from different sources, here is an overview that is at best scary:
So if they refuse to accept, what can we think they really want?
LARIJANI: IRAN'S NUCLEAR REPRESENTATIVE TO THE WORLD IN HIS HOME STYLE DRESS
Yeah, and just because my toddler wants to drive my truck doesn't mean I should give her the keys.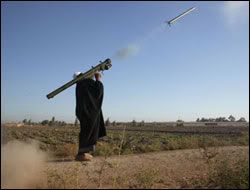 SHOULDER FIRED GROUND TO AIR WEAPON

While the left hand is waiving around the right hand is behind the back drawing the gun.
I'll go out on a limb and say that the Russian offer to enrich will be denied. The only reason for Iran to refuse the Russian offer is if they plan on weaponizing uranium. The rationale for my conclusion is in these stories linked above. I don't think anybody wants Iran to have a nuke, but Iran sure wants one and they aren't hiding their intentions very well.