I've never really liked Bryant Gumble, and never understood why networks give him money to be on the air.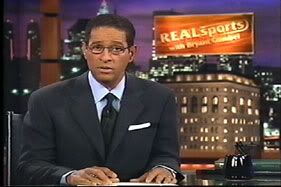 BRYANT GUMBLE ON HBO'S REAL SPORTS
Now he makes a commentary about the Winter Olympics looking like a GOP convention due to the absence of black athletes.
Let's look at the entire picture of ethnic and political bias painted here. The implication is from Gumble that the GOP is exclusively a white boy club. I am quite sure that Condoleeza would say differently along with the broad selection of non-white leaders appointed by W.
Next, Late Night host Dave Letterman was interviewing Charles Barkley about winter games that aired on 2/15/2006.
BARKLEY ON LETTERMAN...(THANKS TO WHOMEVER CAUGHT THIS PIC!!)
Barkley put it best "Black people don't like cold!"
Duh! Somebody rent Cool Runnings for Gumble to catch up on what many people of color typically think of winter and winter sports.
I guess as far as his comments about the GOP, I doubt anyone gives Gumble's politics any credit... but then again, I also think that about Al Gore and look how many votes he got.