Dean's Delusions of Iran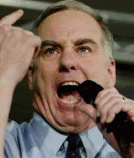 DEMOCRATIC CHAIRMAN AND HEAD CASE HOWARD DEAN
This morning on ABC's GOOD MORNING AMERICA, Democratic National Committee Chair Howard Dean attacked President Bush for turning the United States into Iran.
Dean:
"All we ask is that we not turn into a country like Iran where the President can do anything he wants."
Since I don't watch GMA a big thanks to Matt Drudge for putting this on his report!!
Another big thanks for the Democrats allowing Dean to continue to lead!