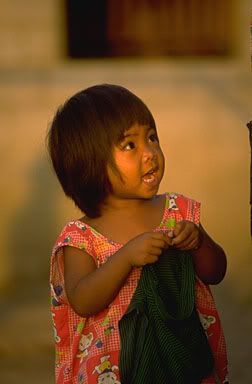 PHOTO OF A FILIPINO GIRL
**NOT THE ONE LISTED IN THIS STORY
THE FOLLOWING IS COPIED DIRECTLY FROM THE ARTICLE LINKED ABOVE:
At least six Christians are dead, including an infant girl, and another five injured after suspected militant Muslims opened fire on a group of Christian families in the predominantly Muslim island of Jolo in the Philippines. At least five gunmen, believed to be from the militant organization Abu Sayyaf, went door-to-door in the village of Patikul and asked the residents if they were Christians. If the residents confessed faith in Christ, the militants opened fire.
Those killed were identified as Itting Pontilla (45), Emma Casipong (16), Melanie Patinga (9 months), Selma Patinga and Pedro Casipong. Abu Sayyaf ("Bearer of the Sword") is a militant Muslim guerrilla organization associated with the al-Qaeda network and has been operating in the southern Philippines since 1991. They have been blamed for a series of bombings, kidnappings and murders, mostly targeted at Christians and foreigners.
****
Based on accepted techniques of confirmation, this information is believed to be credible because of the full proper names of the victims and the history of the guerrilla organization.
I continue to be firm in my stance that Muhammad was misled by false angels (Galatians 1:8) and that Islam is a perversion of the truth of who God is. Some may say the riots over the editorial cartoons was from local social oppression (a weak argument when applied to multiple countries) rather than religion. The blood of this 9 month old girl in the Philippines says otherwise.
Here is more: