The soap opera continues...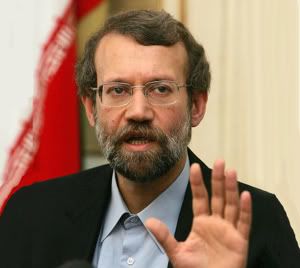 LARIJANI, WEST-DRESSED VERSION
As predicted by anybody with sense enough to think, Iran has left the table on the Russian offer to enrich for them.
So, to the naysayers who think that Iran "deserves" to have a nuke I ask the question:

IAEA LOGO
They volunteered not to have nukes. Nobody forced them to sign this promise.
So, if they pledged to let the existing countries have them and not add to the problem, why now is it ok to disregard their earlier promise and continue a program of weaponization of uranium? Which, of course, they
Special Note: North Korea and Israel did NOT sign this treaty. So, in effect Iran is bringing this scrutiny on itself by its own actions.