Anyone who agrees with that title should seriously have their head examined.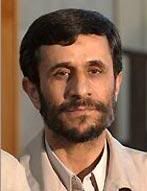 IRANIAN PRESIDENT AHMADINEJAD
The good news is that I predict that Israel will not sit idle while Iran reinvigorates their uranium enrichment program. (Enrichment usually means "weaponization" of uranium).
I wonder how exactly Israel plans to destroy those facilities... this will be "fun" to watch.