The LA Times told us there isn't a need to have the Minuteman militia out there on the border. The rest of the liberal media labeled the project "armed vigilantes" of "racists" out to get Mexican immigrants (aka "illegal aliens").
Now at least one sheriff in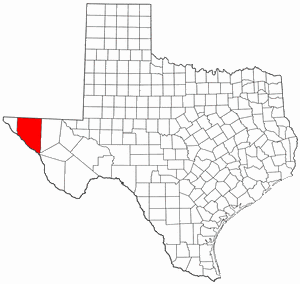 HUDSPETH COUNTY, TEXAS MAP
Paraphrased from NPR report linked in title:
sheriff deputies attempted to pull over three suspicious Cadillac Escalades traveling down interstate 10. A chase ensued and one of the Escalades blew a tire. The crash revealed the SUV was packed with illegal narcotics. The other two Caddies raced to a shallow point along the Rio Grande river known as a favorite spot to cross international borders. One Caddy made it, the other got stuck.



HUDSPETH COUNTY I-10 MAP
With sheriff deputies on hand taking pictures a military humvee pulled up from the Mexican side. Armed uniform soldiers flanked the floundering SUV while the occupants and drugs were offloaded into Mexico and the Caddy was torched.


AP PHOTO OF ARMED MEXICAN TROOPER AS DESCRIBED BY DEPUTIES
This is the second time where soldiers protected a drug smuggler racing across the border at the same point in November 2004.
Mexico has "flatly denied Army involvement" and "initiated an investigation." All I can say is the Sheriff has photographic proof. The place Mexican authorities need to investigate is the bank accounts of the commanding officers. After they review those pictures of course!
Finally, if the Mexican army has been bought by the cartels then the Minuteman Militia need to have more than a few shotguns and handguns to protect themselves. I'd argue that being out there unarmed would be foolhardy.
If I were the Hudspeth Sheriff I'd find an armored vehicle and plan on using it.