GULF COAST SURF ADVISORY: US NAVAL DOLPHIN SQUAD HAS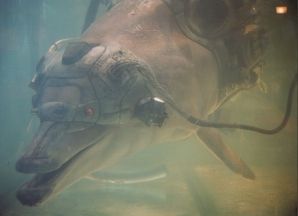 Security video of the team's escape recorded this:
"EEqueea Sqkeeke EEqtk-ik-ik" which has been translated by the military computers as "stepping out for fresh fish, I'll be back."
Here is a rundown how the escape of these WFDs (Weapons of Fish Digestion) fits into the current news cycle:
It is currently unclear what role the dolphins have played in Iraq.
The DAILY KOS reports that Vice President Cheney has been linked financially to Star-Kist however it is currently unclear if there was any monetary benefit to the VP in the Dolphin training.
Cindy Sheehan is reported to be blaming president Bush for the Dolphin's escape, and is planning a tuna-free vigil.
Pending focus group study of what to say, Hillary Rodham Clinton has refused comment.
Supreme Court Justice Roberts has thus far said nothing on his stance regarding the dolphins escape pending legal action.
You just can't make this stuff up!