Allow me to paint a snowy picture with the brisk sounds of maple syrup pouring from the trees. Ahh Vermont, land of trees, syrup and liberal yankees. For those of you who didn't know, Vermont is a State in the USA and not a city in Canada.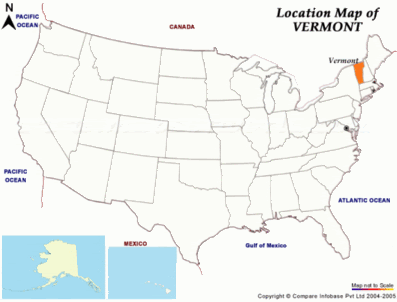 PROFESSIONAL LOOKING MAP TO DEMONSTRATE VERMONT RIPPED FROM GOOGLE SEARCH
Now some nut case democrat is running in a republican costume.
Dennis Morrisseau, 62, of West Pawlet, plans to seek the Republican nomination to run for U.S. House of Representatives. The seat is being vacated by Rep. Bernard Sanders, I-Vt., who plans a run for the U.S. Senate.

A central part of his platform, Morrisseau said, will be bringing articles of impeachment against Bush.
Apparently both of the repblicans in that state don't like his silly war. Last I heard one of those Republicans threatened to walk across the street to Canada if Morrisseau won.
More developments as breaking news happens!