Boobs On the Big Screen!
John McCain, known best for being a bitter anti-Bush man after losing the nomination for 2000, is glad to be a part of the same Hollywood that he just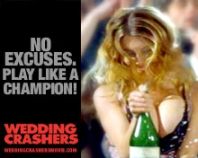 Doesn't he realize he is saying he is glad to be in a
Difference in being a republican and a democrat: republicans can't do 180 degree turns and get away with it. Difference between a real Conservative and a Moderate: Zell Miller vs. John McCain.

Cost to take your sweetie to see this T&A fest including popcorn combo: $28.50
Reading McCain's website and seeing how he contradicts himself: free.
Realizing that McCain really is a Boob: Priceless.